Svetozar Stojanovic
Born 1931-2010. Founder and President of the Serbian-American Center, Belgrade. Professor and director emeritus of the Institute for Philosophy and Social Theory, University of Belgrade. Elected member, Institut International de Philosophie, Paris. Elected member of the International Academy of Humanism, Buffalo, NY. Distinguished Research Fellow, Center for Inquiry International, Buffalo, NY. Elected member of Clare Hall College, Cambridge, UK. Elected member, Academy of Humanities Research, Moscow. Member of the Advisory Board of the University of Belgrade. Member of the Board of "Politika", Newspaper. Radio and TV co, Belgrade.
His publications include 6 books, 4 brochures and about 130 journal articles translated into 14 languages. Books in English: "Between Ideals and Reality", Oxford University Press, 1973; "In Search of Democracy in Socialism", Prometheus Books, Buffalo, NY, 1981; "From Marxism and Bolshevism to Gorbachev", Prometheus Books, 1988; "The Fall of Yugoslavia: Why Communism Failed", Prometheus Books, 1997; and "Serbia: The Democratic Revolution", Humanity Books, Buffalo, NY, 2003.
He has been distinguished visiting professor at many universities in U.S., Germany, Great Britain, Austria, India…
As one of the leading dissidents under Tito, together with 7 other professors from the so called Praxis-group, was expelled from the University of Belgrade, in January 1975.
He was (July 15. 1992-May 31, 1993) special advisor to Dobrica Cosic, president of FR of Yugoslavia, who was removed from office by Slobodan Milosevic and Vojislav Seselj.
He was a longtime critic of Slobodan Milosevic, and one of the protagonists in the October 5/6 2000 Serbian democratic revolution against him and his regime.
Professor Stojanovic joined TFF as Associate in July 2004.
More about professor Stojanovic here:
Testimony U.S. Congress, March 2004
Leaders Forum, University of New Haven
"The Democratic Revolution" reviewed in Foreign Affairs
Address

n.a.

Phone

+381 11 328 44 77 or 328 37 56

Fax

n.a.

E-mail

Website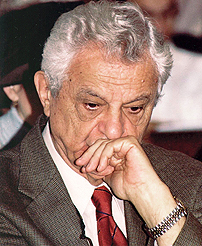 More about TFF